---
STEVESTON BUSINESS DIRECTORY

Thank you to all the businesses that have again supported this Steveston publication since 1986.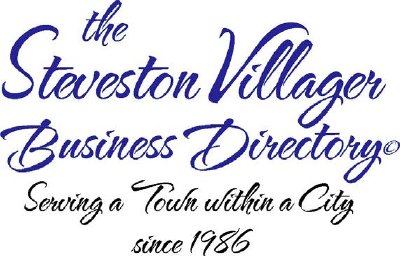 FALL 2010 Issue
We are now accepting reservations for the 2010 Issue.
Call for more information: 604-275-9452
or email: info@steveston.bc.ca
Publishing September 2010.
PLEASE CALL & BOOK NOW TO BE INCLUDED!!
604-275-9452
All ads are placed on a first come bases. If you would like to see our ratesheet, please send us an email at info@steveston.bc.ca

Circulation: 21,000 copies (and impressions)

The completed Steveston Villager Business Directory will be posted on-line here: http://www.steveston.bc.ca/villager.html

It will remain there for there for 6 months (and continue as a back issue indefinitely) at no extra charge!
The Steveston Villager Features:
Full Colour Gloss Cover
with back cover to include as usual the most up-to date-calendar of events
Full Colour Center Map
to include a FREE full colour companion ad for all businesses booking half or full pages. All businesses will have their location on the centre map



Steveston Business Telephone Directory
Calendar of Events
Things to Do

Quality Materials
it will be produced on high quality, matte gloss paper


15,000 Booklets will be distributed to V7E Steveston Residents by Canada Post (Distribution Map)


5,000 Additional Booklets
will be distributed in Steveston and around Richmond in high traffic areas
Steveston Community Telephone Directory
to be included on the backside of the full colour map page
IN ADDITION

The Steveston Village Community Website, www.steveston.ca will now have a complete phone directory for all businesses in Steveston on-line, and updated twice a year!

It will have a Steveston Business Linx page for visitors to find you directly.

The FREE monthly advertising in the Steveston Community E-Newsletter will continue each month (except July and August this year) ONLY Steveston Villager Business Directory participants will be able to advertise there each month at no extra charge.

There is no better value for your advertising dollar than the Steveston Village Trio of Products.

Steveston Villager Business Directory, Since1986

Steveston Community E-Newsletter, Since 2000

Steveston Village Community Website, Since 1996 - www.steveston.bc.ca
Advertisement Sizes Available:
1/8 Page Ad approximately 2.5" x 2", as space permits
1/4 Vertical Page Ad approximately 2.5" x 4"
1/4 Vertical Page Ad approximately 5" x 2"
Half Page Ad approximately 5" x 4" (includes a FREE full colour companion ad around Village Map)
Full Page Ad approximately 4.5" x 7.5" (includes a FREE full colour companion ad around Village Map)
The Steveston Villager still remains, since 1986, the most effective print advertising for Steveston businesses. This booklet is highly sought after and remains a "keeper " for both residents and visitors . It will have a shelf life of 6 months or more. Please don't delay ….. For more information and details contact us
___________________________________________________________________
STEVESTON COMMUNITY WEBSITE – www.steveston.ca
Give Your Business The Gift of 'Connection'
The Steveston Village Web Community, operating since 1996, and can help increase your business through the Internet. This is the site lists No. 1 in all major search engines! We have had 5,717,541 visitors till the end of August 2007. Those visitors are looking you at www.steveston.ca, and you can be sure that they will find you fast! It's time to get your business involved??

These are the ways in which we can help:

a custom designed website for your business, hosted within www.steveston.bc.ca


Kwiklink

a high-visibility link from our website to yours (see the right side of this page) includes a link from the Business Directory


link your own website to your listing in our business directory

Businesses or Services that would like to have an email link on are Business Directory are invited to contact us to make arrangements, 604-275-9452, or Email: info@steveston.bc.ca


Contact Us to set up an appointment so we can show you more detailed information