A Little Bite of Steveston: An ever-growing list of recipes served with a uniquely Steveston flavour is coming your way. If you have any dishes you would like to add to our list, please send us your favourite Steveston recipe and we will post it here! Each recipe submission will receive a "Vintage" Limited Edition Full Colour Full Size Poster of Steveston circa 1992. Please make sure you give us your email address and telephone number (both will be kept confidential as well as your name if you wish) so that we can contact you as to where it can be picked up. Full credit will be given to the contributor. When submitting your recipe, understand that Sunor Enterprises Ltd. will reserve the right to publish, it at anytime, elsewhere, unless you state otherwise. Full credit will be given to all contributors.
---
LIVEN UP YOUR MASHED POTATOES
Mashed potatoes have been one of the ultimate North American comfort foods for several decades. Beside a slice of homey meatloaf, under a savoury stew, or with the Sunday roast smothered in pan gravy, we love, love, love them. And though you may have been scolded as a child for playing with them on your plate, I am here to tell you that it is okay to play with the way you make your mashed potatoes.
The basic method for making mashed potatoes is simple; boil some potatoes, mash them, and then add some fat and some liquid for flavour and texture. There are so many ways to tinker with the basic method.
From the kind of potato you use, to the liquid and fat you add, even the way you mash them can be played with. Here are a few variations that my family and I enjoy.
SMOOTH AND SILKY POTATO PUREE
2 lb. Russet potatoes, peeled and cut into even size pieces 1/2 cup hot whole milk
Pinch freshly grated nutmeg Freshly ground white pepper to taste 7 oz. unsalted butter, cut into pieces
Put the potato pieces into a pot and cover with water. Add a liberal amount of salt, the water should taste like sea water, and bring to a boil. Cook the potatoes until a skewer or knife can easily penetrate the center of the potatoes, about 20 to 30 minutes. Drain the potatoes. Pass them through the fine disk of a food mill or potato ricer back into the pot in which they were cooked. Immediately add the milk, nutmeg, and pepper stirring with a wooden spoon. Add the butter and stir vigorously until the butter is incorporated and the potatoes look almost glossy. Serve immediately.
POTATO AND PARSNIP PUREE
1 lb. parsnips, peeled and cut into 2 inch pieces. 1 lb. Yukon gold potatoes, peeled and cut into 2 inch pieces. 6 peeled garlic cloves 3 oz. unsalted butter cut into pieces Freshly ground pepper
Put the parsnips, potatoes and garlic into a pot and cover with water. Add a liberal amount of salt and bring to a boil. Cook until a skewer or knife easily penetrates the center of the potatoes, about 20 to 30 minutes. Draw off about one cup of the cooking liquid and set it aside. Drain the parsnips, potatoes and garlic. Pass them through the fine disk of a food mill or potato ricer back into the pot in which they were cooked. Mix in a couple of tablespoons of the cooking liquid to loosen the mixture. Using a wooden spoon, mix in the butter. Bring the mash to the consistency you like by adding more cooking liquid. Season with pepper and serve.
MASHED POTATOES WITH OLIVE OIL AND PARSLEY
Fresh, light and lovely is the way these potatoes feel when served with simple grilled salmon or chicken breast, or add some chopped olives and garlic just before serving with a roast leg of lamb.
2 lb. Yukon gold potatoes, peeled and cut into 2 inch pieces 1/2 cup extra virgin olive oil Freshly ground black pepper 1/4 cup chopped fresh flat leaf parsley
Put the potatoes in a large pot and cover with water. Add a liberal amount of salt and bring to a boil. Cook until a skewer or knife easily penetrates the center of the potatoes, about 20 to 30 minutes. Draw off one cup of the cooking liquid and set it aside. Drain the potatoes and return them to the pot in which they were cooked. Mash them with a potato masher. With a wooden spoon, stir in the olive oil. Adjust the consistency as you like with the cooking liquid. Season with the pepper. Just before serving, check the consistency of the potatoes and add a little of the cooking liquid if they need loosening. Mix in the parsley and serve.
These are just a few ideas to get you started. Try celery root instead of parsnips, cream instead of milk, buttermilk instead of cream. The variations are endless, so go ahead and play with your mashed potatoes, really, it's OK!
As always, if you have any questions or comments you can find me at Heringers' Meats in Sunny Steveston. Happy cooking, Ktchef.


WILD MUSHROOM BREAD PUDDING WITH TIGER BLUE CHEESE
Savoury mushrooms and onions with Tiger Blue cheese and hearty bread are the perfect complement to beef.
Serves 8 as a side dish.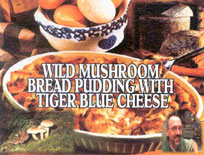 4 Tbs butter
2large onions, chopped
1-1/2 lbs. mushrooms(mix of shiitake caps and cremini), sliced
Salt and Pepper
1Tbsfresh thyme
1/2 c Madeira
1c beef broth
1c heavy cream
2 eggs plus 2 egg yolks
1 loaf whole-wheat bread, stale, cut into 3/4" cubes
½ tsp dried marjoram
8oz Tiger Blue or Cambozola cheese, cut into 1/2' pieces
Sauté the onions in a large skillet with 1Tbs of butter until softened. Add another 2Tbs of the butter, the mushrooms and the thyme. Season with salt and pepper. Increase the heat to high and cook until the mushrooms are browned and all the liquid has evaporated. Add the Madeira. Cook, stirring frequently, over high heat until all the liquid is reduced to a glaze and the mixture is a rich brown colour. Remove from the heat and set aside to cool.
Heat the oven to 350°F. Ina large bowl, whisk together the broth, cream, eggs, egg yolks, marjoram, ½ tsp salt and ¼ tsp pepper. Add the bread and the mushroom mixture to the custard and toss. Let sit for 30 minutes, stirring once in a while, to saturate the bread. Gently stir in the cheese.
Brush a 9" ´ 13"baking dish evenly with the remaining Tbs of butter. Pour the bread mixture into the baking dish, distributing the ingredients evenly. Bake in the hot oven until lightly browned and firm, about 40 to 45 minutes.
Serve with a roasted beef tenderloin, a crunchy salad of winter greens, and a glass of robust red wine for a casual supper with friends and family.
Ktchef
EASY SALADS FOR SUMMER ENTERTAINING
A warm summer afternoon or evening and a good grill are the only excuses I need to call up a few friends to come round for a barbecue. To ensure that I have time to visit with my friends and family while we barbecue, I have developed a few quick, easy, do-ahead salads that go great with grilled and barbecued foods. Here are a couple of my guests' favourites.
SPICEY ORANGE SALAD WITH GREEN ONION AND SHALLOTS
6 servings

8 blood oranges or navel oranges
2 green onions, chopped
2 large shallots, sliced very thin
4 T chopped fresh parsley
1/2 tsp crushed red chili flakes
2 T extra-virgin olive oil

Using small sharp knife cut off peel and white pith from oranges. Cut oranges into 1/4-inch pieces. Transfer to large bowl. Add green onions, shallots, parsley and crushed red chili pepper; toss to combine. Season salad to taste with salt and pepper. Drizzle with oil and serve.
POTATO SALAD WITH OLIVES, TOMATOES AND CAPERS
6 servings

2-1/2 pounds med. red skinned potatoes, scrubbed
5 T extra-virgin olive oil
1 English cucumber, peeled, halved lengthwise, seeded, cubed
4 large plum tomatoes, quartered
1 red onion, sliced very thin
24 oil-cured olives, pitted, halved
1/4 cup very thinly sliced fresh basil
2 T drained capers
3 T white wine vinegar
1/2 tsp dried oregano
3 hard-boiled eggs, peeled, quartered

Cook potatoes in boiling salted water until tender, about 30 minutes. Drain; cool. Peel potatoes, cut into q-inch pieces and place in large bowl. Add oil; toss to coat. Add cucumber, tomatoes, onion, olives, basil and capers. Whisk vinegar and oregano in separate bowl; mix into salad. Season to taste with salt and pepper. Garnish with eggs and serve.
Add a few new ingredients or take away what you don't think you will like and these tasty salads will bolster your summer repertoire. Enjoy!
HAPPY cooking ... Ktchef
As always, if you have any questions or suggestions, you can find me at Heringers Meats in Sunny Steveston
MAKE FRESH LOCAL SALMON A FAVOURITE AT YOUR PICNIC TABLE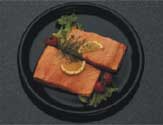 A prized catch in most of the Northern Hemisphere, salmon is truly one of life's great delicacies. This fish is celebrated by the preparation of a regional dish in many countries.In Ireland and Scotland, the salmon is brined, cold smoked (sometimes with a little of the local whiskey) then served in silky textured slices. In Scandinavian countries it is often served pickled, and the Russians make a very special "pie" called Kulebyaka.
Here on the West Coast we enjoy a Native preparation on the beach. A whole salmon split from the backbone is spread on a lattice of cedar sticks and then mounted on poles beside a driftwood fire. The natural oils from the fish drip down onto the hot gravel, sizzle and sputter for a moment, then drift back up as smoke to mingle with the flesh of the salmon; what an incredible flavour!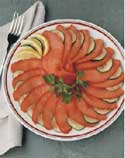 Salmon is an easy fish to love. Even people who claim to dislike fish will often appreciate its delicate flavour and firm texture. It can be cooked by almost any method. The most important thing to remember is to keep the seasonings simple as you wouldn't want to mask the delicate flavour you prize.

This time of year a favourite way to prepare salmon is to cook it whole or split on the barbecue, but in the oven with a stuffing of local crab and shrimp mixed with a little cream cheese, mayo and lemon is a decadent way to go. Poaching the fish in a gently simmering bath of water, wine, lemon, aromatic vegetables and herbs makes a great summer lunch.
All of these methods make for a most enjoyable repast, but one of the best parts of a great salmon meal is the leftovers. I love a salad of cold chunks of moist, pink meat tossed with fresh peas, cubes of cooked new potatoes, crunchy cucumber, grated carrot and snips of fresh dill; unforgettable! The only other thing it needs is a dressing of mayonnaise lightened with a little sherry or fresh lemon juice. Try making the mayo yourself using a little bit of locally pressed walnut or hazelnut oil and most of the chefs I know will be sniffing around your picnic table for a handout!
Where to buy salmon and how to choose a fresh salmon are questions I am often asked. Where is easy enough for us folks wholive in Steveston. Look for clean, fresh smelling fish shop in the village or head down to the Government docks at Steveston landing during the commercial fish season (June thru September). Great fresh fish and a vibrant setting to shop in.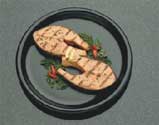 What to look for in a fresh fish takes a little practice. A whole salmon should have eyes that are bright, clear and protruding and the flesh should be springy. It should bounce right back when pressed gently with a finger. Finally, use your sense of smell - the fish should smell of the sea, not a strong fishy odour.
Take some time this summer to enjoy the fish that built the town of Steveston and don't forget to come out and celebrate the Salmon Festival.
Happy cookin...... Ktchef
As always, if you have any questions regarding this or any other food issue you can find me at Heringer's Meats in sunny Steveston.

FESTIVE SALAD FOR ANYTIME ENTERTAINING

Composed salads are a quick and elegant way to either start a festive meal or separate richer courses in a formal dinner. By adding cooked meats or fish and heartier vegetables they can also become a tasty light lunch or supper.

I always start with a bed of good greens. The organic section of the local produce store has a selection of pre-washed salad ingredients available as separates or mixes, ready for use. These mixes are a rich cornucopia of textures and flavours, from coarse and crunchy to soft and silky, from aromatic and bitter to sweet and even sour. They provide a great foundation on which to build a fantastic composed salad, and they won't wilt when tossed with the warm ingredients in the rest of the salad.

To make this salad festive, I have chosen the bright flavour of grapefruit, the salty crunch of fried Italian bacon, or pancetta as it is named, and the sweet and sour delight of balsamic vinegar. To this I add a little chopped shallot, some salt and pepper, a splash of extra virgin olive oil, and the salad is ready for the plate.

To make this salad for your guests you will need for 4 people: 6 cups of salad mix, 2 large grapefruits, 2 shallots, 2 - 3 ounces of pancetta, 1 Tbsp of balsamic vinegar, 2 Tbsp of extra virgin olive oil,
salt and freshly ground pepper.

Start by placing the greens in a large bowl, you can add some torn basil leaves if you like, and season them with some salt and freshly ground pepper. With a sharp knife, peel and segment the grapefruits into a separate bowl with their juice and drizzle the balsamic vinegar over them.
Peel and finely chop the shallots, cut the pancetta into ¼ inch strips and throw the strips into a cold sauté' pan. Now arrange 4 - 6 grapefruit segments on each of 4 salad plates, reserving the grapefruit juice and balsamic vinegar mixture. Put the sauté' pan with the pancetta strips on a medium-high burner and fry the pancetta until it is crisp but not burned, then pour the contents of the pan over the seasoned greens. Return the pan to the burner and add to it the olive oil and the chopped shallots. Sauté' the shallots until just wilted, about 1 minute, then add the reserved grapefruit juice and balsamic vinegar to the pan and boil rapidly for 1 minute, scraping the pan with a wooden spatula to release any caramelized juices from the bottom of the pan. Pour the contents of the sauté pan over the greens and toss well, taste and adjust the seasoning as needed, then divide the salad amongst the 4 plates. Garnish with your choice of freshly grated Parmiggiano Regiano or Romano cheese and some fresh chives or basil leaves then serve it to your guests.

To make this salad a light meal, try adding some sautéed mushrooms and strips of chicken breast, or pan-seared sea scallops with roasted red pepper and boiled new potatoes. Let your imagination take you away and have some fun in the kitchen.

Happy Cooking....... Ktchef