Gulf of Georgia Cannery National Historic Site
---

There's so much to discover!
Situated atop wooden pilings over the mighty Fraser River, the Cannery is one of the few remaining 19th century salmon canneries in B.C. In its heyday, the Gulf of Georgia Cannery was the largest building of its kind and the leading producer of canned salmon in B.C. Now a dynamic fishing museum, step inside and become immersed in the sights, sounds and stories of the West Coast fishing industry. So much to see and do, all at an affordable price!.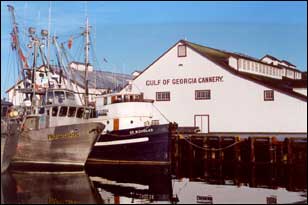 2007 Hours
May 5 to 31
Thursday through Monday 10 am - 5 pm*
June 1 to September 3*
7 days a week 10 am - 5 pm
September 6 to October 8*
Thursday through Monday 10 am - 5 pm
*Except Sundays open 11 am to 5pm only
October 27 & 28
Haunted Cannery Halloween Tours
SPECIAL EXHIBITS
Saturday, June 16 - Sunday, Aug. 12
IMAGES OF DISCOVERY
The Cannery will host an exhibit of renowned maritime artist John Horton's prints celebrating the 250th anniversary of Captain George Vancouver's birthday. .
Saturday, July 21, 1 - 2:30pm and again on August 11
Parks Day - Strolling Through Steveston's History
A team of tour guides will interpret episodes of Steveston's colourful past while taking you to its heritage sites and museums. Please Reserve: 604.664.9009
Monday, Sept. 3 - Monday, Oct. 8
Fishing the West Coast Photo Display
The Fishing the West Coast annual photo exhibit features images from and about people in the fishing industry.
- MEMBERSHIP BENEFITS: Unlimited free visits to the Site, 20% off at the Cannery Store, "Cannery Currents" newsletter 4 times a year, Invitations to Special Member Events, Voting privileges at the Annual General Meeting, Opportunities to volunteer and last but not least, your membership contributes to the preservation of our West Coast Fishing history
1 yr. Individual $18./yr - 2 yrs. $36. : 1 yr Family $30./yr. - 2 yrs.$60. Corporate 1 yr - $50
Checks please made out to: Gulf of Georgia Cannery Society, we also accept MC/Visa, please call.
12138 Fourth Avenue, Richmond, B.C. V7E 3J1 Telephone: (604) 664-9203
---
THE CANNERY STORE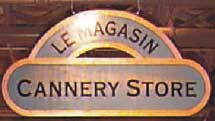 We're located just inside the Cannery front doors! (no admission is required for browsing and shopping in the Cannery Store
We have a beautiful selection of local artisans work; Denman Island Chocolate; smoked salmon; first nations merchandise; hand made aprons, potholders, etc.; great book selection including cook books; pottery; baby, kiddies, youth and adult clothing.
The Cannery Store will be open seven days a week April 1st to October 31st and during the Christmas season. Drop by and say hello and you will be sure to be greeted with a big smile. The Gulf of Georgia Cannery Society Membership entitles you to 20% off regular priced merchandise see above for details.